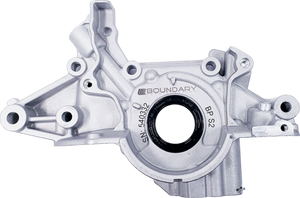 Miata\Escort High Flow Assembled Oil Pump W/Billet Gears
Regular price $439.00 Sale
Stage II pumps increase the overall flow by machining a deeper pocket into the oil pump and fitting larger gears in this pocket. This increases the strength of the pump, increases mid-range oil pressure, and increases the strength of the oil pump gears.
The Stage II Pumps have these additional modifications:
Larger gears are fitted into the oil pump which increases mid range protection and insures compatibility with VVT.

The pump is shimmed increasing maximum warm pressure from 60 PSI to 70 PSI.
All assembled billet pumps undergo the following:
Pump is completely taken apart, all parts under go ultrasonic cleaning, air blast, and hand inspection.

Pump is hand de-burred.

Our industry leading mirror finished gear set is used

Stainless Torx heads replace the stock fasteners

All fasteners are torqued to spec

Loctite applied to fasteners to prevent back out or loosening

Anaerobic sealant applied to critical areas to boost pump up speed and reduce aeration.

Assembly lubricant applied to all critical surfaces to get oil flowing fast on startup

Parts are blue printed and issued with specification sheet.
Part Number: BP-S2 FITS:
MIATA 1991.5-2005